The Column of Constantine – Çemberlitaş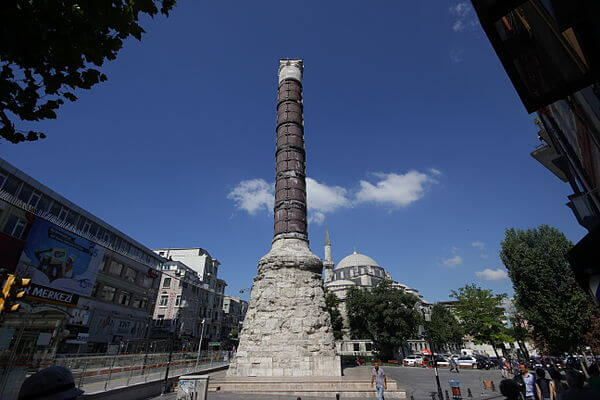 The Column of Constantine is a standout amongst essential cases of Roman workmanship on the planet.
History
The section was raised to respect Constantine in 330 AD when Istanbul was devoted as the capital of the Roman Empire. It remained in the focal point of a substantial oval-molded square on top of the second slope of Istanbul. This square, encompassed by corridors, was known as the Forum of Constantine. It is otherwise called the Burnt Column, or in Turkish, Çemberlitaş. It was initially taller than it is today and was beaten by a statue of Constantine dressed as the sun god. The porphyry squares of the segment were broken by time and by flame, and have been strengthened with iron bands.
The marble capital dates to the twelfth century, and the stone workmanship in the lower area to the eighteenth century. It is trusted that a little chamber under the segment housed sacrosanct relics of early Christianity. The course of the road that goes by the segment has not changed since the season of Constantine.
Reclamation
The section is 35 meters tall today. Rebuilding work has been going ahead since 1955. Splits in the porphyry were filled and the metal sections recharged in 1972. Since 1985, the landmarks of the memorable promontory of Istanbul, including the segment, have been recorded as a World Heritage Site.
(Cover; Melchior Lorichs' drawing (1561) demonstrates that there was an alleviation on the North side of the segment base confronting the Senat House.)
Today
It is situated in the authentic promontory. In the event that you stroll from Sultanahmet to Beyazıt Square, you will see it ideal beside the Çemberlitaş Hamamı (A popular Turkish Bath).