Anatolian Fortress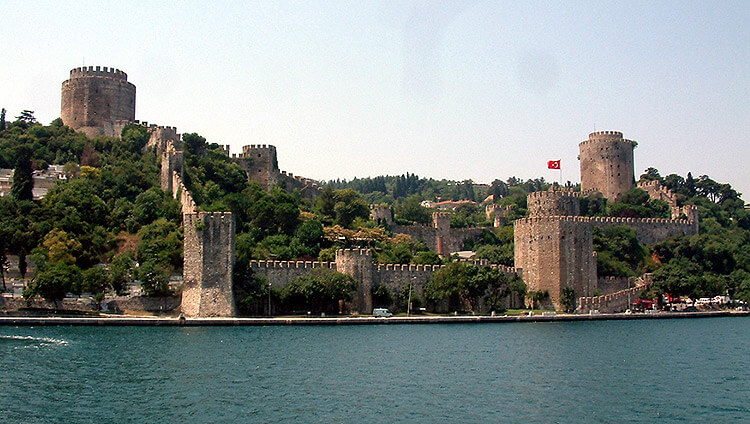 Anatolian Fortress BOSPHORUS
Anadolu Fortress Museum
Anatolian Fortress; It was built in 1394 by Sultan Yıldırım Beyazıt, who wanted to conquer Istanbul and aimed to take control of the Ottomans and the Bosphorus, and to prevent aid to Byzantium from the Black Sea. He covered the area of seven acres and gave the name of the settlement. This structure II. Mehmed (Fatih), "Hisarpece", warehouse and some residential buildings were added. In 1928 some minor repairs were made by Kandilli Municipality. Some repairs were made by the Ministry of Culture between 1991-1993. Today Anadoluhisarı is located within the borders of Beykoz Municipality. There are no movable cultural assets in Hisard. Not open at night.
Anadolu Fortress Bosphorus (Güzelce Hisar)
Anadolu Fortress Bosphorus (also known as Güzelce Fortress) is the place where the Göksu Stream flows into the Bosphorus in Anadoluhisarı district of Istanbul.
The Anatolian mosque was built by Yildirim Beyazit on an area of 7,000 square meters in 1395 in the narrowest point of the Bosphorus, 660 meters away. The Genoese were union with the Byzantines and established colonies in the Black Sea (in Kefe, Sinop and Amasra). For this reason, the passage of the Bosphorus was vital for the Genoese. The same was the case for the Ottomans. On the opposite shore, the Rumeli Fortress located on the European side of Istanbul, between the years 1451-1452 II. It was built by Mehmed to control the passage of the ships of these foreign nations. When Fatih Sultan Mehmed built his Rumeli Fortress, he added outer fortifications to this fortress.
Anadolu Fortress consists of inner and outer castles and the walls of these monuments. The inner fortress is a four-storey house with a rectangular shape. When it was first built, there was no entrance gate, so the tower was entered from a suspension bridge that extended to the inner castle walls. The upper floors were also climbed with wooden stairs inside.
The inner castle walls combine the northeast and northwest corners of the outer castle. These walls are three meters thick. There are many arches and three towers built to protect the fortifications on the outer fortress walls that join the inner walls. The actual city walls are 65 meters east-west; North-south direction. The thickness of the walls is 2.5 meters. The outer walls have culverts where the balls are placed. Block stones filled with mortar were used in the main building of the Anadolu Castle and on the inner walls.
Anadolu Fortress Istanbul, The Bosphorus lost its military significance after the conquest of Istanbul and its surroundings became a residential area over time. The road passes through the middle of the Anatolian Fortress which is destroyed some parts today.